It's hard to believe this is the 8th week for
Rednesday
.
This is a weekly blog party celebrating everything red. Sunset reds to garnet reds....
tomato reds to strawberry reds...and every shade in between.
Posts can showcase vintage finds. collections, decor, fashion, designs or items you have for sale, seasonal items, recipes,etc. The connecting thread will be the color red.
With this also being Autumn and Halloween the Cousins of RED are also included such as russets, red-oranges, and maroon.

For this party I thought I'd Start with some awfully good appetizers ..........................................................................
Serves 8

|

Hands-On Time:

|

Total Time:
Ingredients
2 pitas, each split into 2 rounds

4 tablespoons

olive oil

1 teaspoon paprika

1/2 teaspoon dried oregano

Kosher salt

1 16-ounce jar roasted red peppers, drained and cut into strips

1 teaspoon

fresh lemon

juice

1 cup grated provolone
Directions
Heat broiler. Arrange the pita halves cut-side up on a broilerproof baking sheet. Brush with 2 tablespoons of the oil and sprinkle with the paprika, oregano, and 1/4 teaspoon salt. Broil until crisp, 2 to 3 minutes; set aside.

Heat the remaining 2 tablespoons of oil in a large skillet. Add the peppers, garlic, and 1/4 teaspoon salt. Cook until the peppers are hot and fragrant, 2 to 3 minutes. Stir in the lemon juice.

Top the pita halves with the pepper mixture and sprinkled with the provolone. Broil until the provolone melts, 2 to 3 minutes. Cut into pieces before serving.
Seeds from 1 large pumpkin, rinsed and dried

2 tablespoons

olive oil

Salt and freshly ground black pepper
Directions
Preheat the oven to 375 degrees F.
Scatter
pumpkin seeds
onto a
sheet pan
in a single layer and drizzle with olive oil. Sprinkle with salt and pepper and toss to coat. Bake for about 7 minutes, until light brown and crispy
Or how about some............
Brain Dip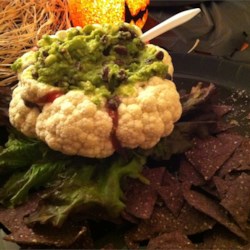 Original recipe makes

3 cups
Change Servings
Slice the avocados in half. Remove the seeds and set aside. Scoop the avocado out of the skin into a bowl. Mash with a fork or whisk and stir in the salsa. Set aside. Slice off one side of each pit to make it flat and expose the cores of the pits. They will look like eyes.

Remove all of the leaves from the cauliflower and remove the stem, leaving a nice hollow area with the outer part of the head intact. Use toothpicks to hold it together if it starts to fall apart.

Place the cauliflower into a small bowl, so that the hollow is facing upwards and most of the cauliflower is up out of the bowl. The bowl is just for stability. Fill with the avocado dip and arrange the pits as eyes. Decorate the white ''brain'' by weaving thin strands of red and blue fruit leather between the florets to make veins and arteries. I wrap the bowl with cheesecloth and decorate with red food coloring to make it even more horrific!
I thought a little Voodoo Chicken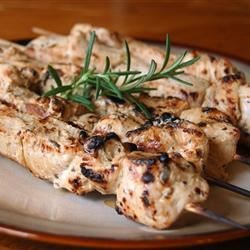 Ingredients
Original recipe makes
6 servings
In a medium bowl, stir together the olive oil, ranch dressing, Worcestershire sauce, rosemary, salt, lemon juice, white vinegar, pepper, and sugar. Let stand for 5 minutes. Place chicken in the bowl, and stir to coat with the marinade. Cover and refrigerate for 30 minutes.

Preheat the grill for medium-high heat. Thread chicken onto skewers and discard marinade.

Lightly oil the grill grate. Grill skewers for 8 to 12 minutes, or until the chicken is no longer pink in the center, and the juices run clear.
And these terribly good Monster Mash Potatoes
oops..can't forget the veggies......Aliens Fingers
6 Servings
Prep/Total Time: 30 min.
Ingredients
1 pound fresh wax or green beans
6 bacon strips
1/4 teaspoon onion powder
Directions
Place beans in a large saucepan and cover with water; bring to a
boil. Cook, uncovered, for 8-10 minutes or until crisp-tender.
Meanwhile, in a small skillet, cook bacon until partially cooked,
about 3 minutes; drain on paper towels.
Drain beans; place about 12 beans on each bacon strip. Position one
end of beans so they are nearly even; cut about 1/4 in. from that
end so stalks will stand when served. Wrap bacon strip around beans;
secure with a toothpick.
Lay stalks flat on an ungreased baking sheet. Sprinkle with onion
powder. Bake, uncovered, at 400° for 10-15 minutes or until
bacon is crisp. Yield: 6 servings.
Now that we all have our plates, let's get this party goin!
My Red post today is of some of my Fav finds......................
I found this sampler
and this great bag filled with Christmas novelties.
This wonderful hat will make a great base for and Angelic Inspiration.
These rose hankies will create a lovely dress.
I love this plastic tabletop lighted jack'o'lantern
and this thrifted potholder matches my vinyl tablecloth!
These 4 plates are just too haunting not to use for Halloween.

Okay now it's your turn. Below you'll find the Inlinkz icon to join this red letter day.