It's only 10a, but this is how my days is going. It started storming at 3a and was up til about 6a. Wind...hail....lightening.....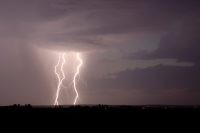 thunder..the whole show....it was a gullywasher, but thankfully no tornado. It was in the upper 60's and is now in the upper 50's, but it's to go down to the 40's by 5...yikes...they say if you don't like Cincinnati's weather just wait a minute..it'll change.
Today, I'd also like to thank all who have sent E-mails and messages inquiring about Dad's progress.
He is getting a little better each day.
It's so kind of you to check in on me. Your kindness brightens my day!
Now the real bright spot today is that it kicks off the week long

over at
http://www.etsycottagestyle.blogspot.com/
I love hosting parties for this blog. Everybody is so talented, inspiring, and the best blog folk around:) The color for this month is
PURPLE.
If you didn't know the birthstone is amethyst and the flower of the month is violets.....
both shades of purple
.
Now for this post I thought I'd show off some of my vintage inspired creations.............................
I created this plate by taking a plain glass dinnerplate and basecoating it white. I then hand-painted the bouquet of violets. After it all dried I added the vintage hand-tatted rick-rack to frame the center.
Miss February
(a 1952 6" platic doll)

sports a dress

(1940's hankie)
in a violet print I hand-embroidered and added vintage habadashery violets and glass bead violet buds. Her cloak is a vintage doily adorned by glass bead violet buds.
This puple passion wedding pillow was a great find. I had the vintage doily and latex rose, but one day I came across the vintage wedding hankie in a package of like new undone stamped vogart. I stitched up the double ring pattern and flowers and added silver studs.
My Favorite Lavender Lady is Frenchy. Her satin slip is a wonderfully faded blue-purple. The satin rose fabric with the pale lavender fringe is original to the doll. I added a 1930's hankie for the skirt and hand-embroidered some of the flowers to matxch the blue-purple colors of the slip.
I just love her lavender iridescent wings and jaunty felt and feather cap.
This pretty in purple lass is a kitchen angel. Her skirt and apron are original, but I added the vintage rick-rack and embroidered flowers on the apron. She sports 19y60 eyelet wings. She stands atop a wodden cutting board that is accented by a 1960's recipe tin box with a few original recipes and a 1940's cookbook filled with tasty recipes and vintage doll photos! With this kitchen witch around no recipe will turn our badly :)
These purty purples are available on my website at
http://www.brownginghamcreations.com/
You can also browse for more purples there too. Now, I'm off to stroll down Etsy Cottage Style and see everyone else's color purple...we go thru
Here